My second 2021 report for B2B Marketing Propolis is all about how Marketing contributes to (or perhaps even leads?) their company's customer experience (CX) programs. I had surveyed nearly 100 B2B marketers and also interviewed several of them for a deeper dive.
A decade ago, CX focused on the descriptor "CUSTOMER" and was mostly about product usability and after-sales service quality; the most early-adopters were companies in retail and financial services. As a Forrester analyst in 2014, I well remember congratulating the German drugstore DM-Markt on their customer-friendly shops where no coin/token is needed for a trolley; which has magnifying lenses attached (for those needing help to read product descriptions); plus generously-spaced supermarket lanes where you could choose your own route through a shop and not be forced to look at everything on offer. The overriding concept at that time was "ease of doing business".
Then I worked with B2B companies like Mearsk and Henkel who took up that mantra and implemented improvement programs to help: shipping agents book their container transport much easier (Maersk); or procurement and project managers to replenish inventories of industrial adhesives with the minimum of bureaucratic fuss. So, the CX imperative began to spread implicitly across the buyer journey as well.
Now, the well-publicised digital expectations of a new generation of B2B buyers and users has pushed CX to the top of everyone's digital transformation agenda. All surveys now report incessantly on large percentages of digital buyers clicking away from a website, or even a company as a whole, in response to a difficult experience during their buyer research.
So CX is therefore now a vital factor for both sales and marketing. But how much CX do B2B Marketing organizations  cover? Do they take responsibility for CX optimization, or do they just play a cameo role in the company's overall CX endeavor. This is what I found out …
The prevalence of various tools and methods to improve CX was not high, and only three methods were cited by more than two-thirds of the respondents. Conclusion: B2B marketers are only just beginning to recognize that they have a role in CX optimization.
A frightening 72% of the respondents did not consider "ensuring alignment of marketing to CX" to be a major priority. And very few stated that they use CX measurements and metrics to inform marketing's work.
The general impression left by the survey opening is that B2B marketers do recognize the increasing importance of CX but they do not feel directly responsible for its measurement nor improvement.
MUCH OF CX IS OUTSIDE MARKETING
The survey also revealed a general reluctance to support CX processes within Marketing. Of the 86% of companies running a Customer Feedback System for CX, half of those respondents specified that the system was run outside of marketing. Even a marketing-orientated process like Customer Analytics, named by 84% of respondents as being used for CX, is being done in over a third of the cases (31 of that 84%) outside of the marketing organization.
There is a similar picture with the CX measurements systems that are in place across the companies. Only the Customer Lifetime Value and Voice of Customer metrics are managed more than 50% of the time by Marketing. All other systems are collected outside of marketing in the majority of cases. Which does make some sense: Customer Service and other post-sales departments have greater access to customers to be able to collect the data. See the graphic below. 
Marketing executives answered emphatically that they want to build up CX resources and competencies. But other answers on training, coaching and even career opportunities for marketing professionals did not really support that intent with fact. 
But this should not mean that marketing takes little responsibility for CX ? 
There are several programme types where Marketing has the clear leadership plus an opportunity to push CX further. These are Sales Enablement, Customer Advocacy and Customer Success. So I asked specifically about these topics in our CX survey of B2B marketers and can report that:  
Sales Enablement is up and running in most firms, including customer insights
Customer Advocacy program investment is picking up, albeit slowly
Customer Success programs are in the infancy stage.
The report itself has much more data, several statements from the practitioners I interviewed and several tools. including a maturity assessment tool, that B2B Marketing's Propolis clients can leverage as they align their marketing to their company's CX strategy. In a few weeks, we will release a highlights version – write me if you would like a copy.
Overall, the report is quite bullish about what role Marketing should be playing, particularly when the deep-dive interviews are considered. My B2B Marketing colleague and Propolis Expert for CX, Barbara Stewart, from the UK, states quite simply: ""Now is the ideal time for B2B marketers to step in and lead the delivery of a customer experience from end to end to deliver a marketing-led customer experience"
Another practitioner interviewed was Lauren McCadney, Director, Marketing Delivery at CDW in Chicago, and she says: "Fantastic CX involves ensuring every customer touchpoint delights and is a consistent reflection of the brand. This suggests a symbiotic relationship between functions that can't be 'owned' by a single group, but should be led by the group that has the expertise to think and share the strategy broadly. I believe that function is marketing."
This schematic from my distinguished ex-colleague James McCormick, Principal Analyst at Forrester documents the current matrix of CX functions. He shows a separate, dedicated, CX practice – the question is: will many B2B companies do it that way, or will they put Marketing in charge ?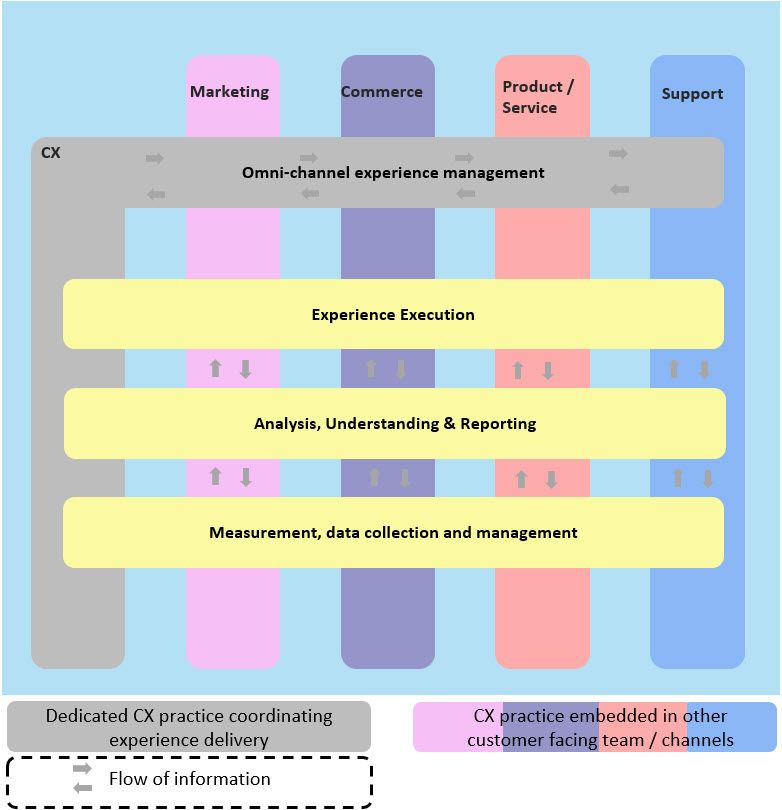 Allocating responsibility for CX is so important. As Lauren implies, somebody has to be responsible, or everyone will just assume that someone else is working on it. If something is your responsibility, it means that it's your job to make sure that it's OK. 
Always keeping you informed! Peter