This is not Marketing Localization
I've been working with the Marketing Lead Management vendor Marketo for close to 10 years now. In my Forrester days, I would regularly stop off at their office in San Mateo and meet up with founders Phil Fernandez and Jon Millar before flying home in the evening from San Francisco.
So I was pleased to report that Marketo were named and rated the highest of all under that brandname in my 2020 Vendor Selection Matrix on MLM, regardless of the company being acquired and absorbed by Adobe several years ago. Brand counts for something in B2B these days.
One interesting discussion I always had with the Marketo executives was their strategy in Europe. For many years, they just parked some people (including German and French speakers) in Dublin, Ireland and marketed to European countries from there. I am convinced that this is one reason that Marketo struggled to sell well in Germany – though I could cite many others as well.
But the acquisition by Adobe, who do have a substantial presence in Germany, promised that this could change. I've been receiving German-language mailings from "Marketo Germany" for quite a while now and I do hear signals in the market that there are more substantial sales and consulting resources working with German companies.
So I was curious this week when I got an email, from onlinemarketing.de but signed off by "Team Marketo Engage, Adobe", offering me an eBook describing how successful companies fuel their growth with Marketo – all presented and promised in German language. So I downloaded it and took a look.
What an insult to German B2B marketers. The eBook is a report full of American case studies citing growth numbers between 2014 and 2015 – so obviously old. I even found the English-language original which is dated 2016 – they just translated an old (ie. obsolete) eBook including translating the final copyright statement on the back page … "© 2016 Marketo, Inc. Alle Rechte vorbehalten."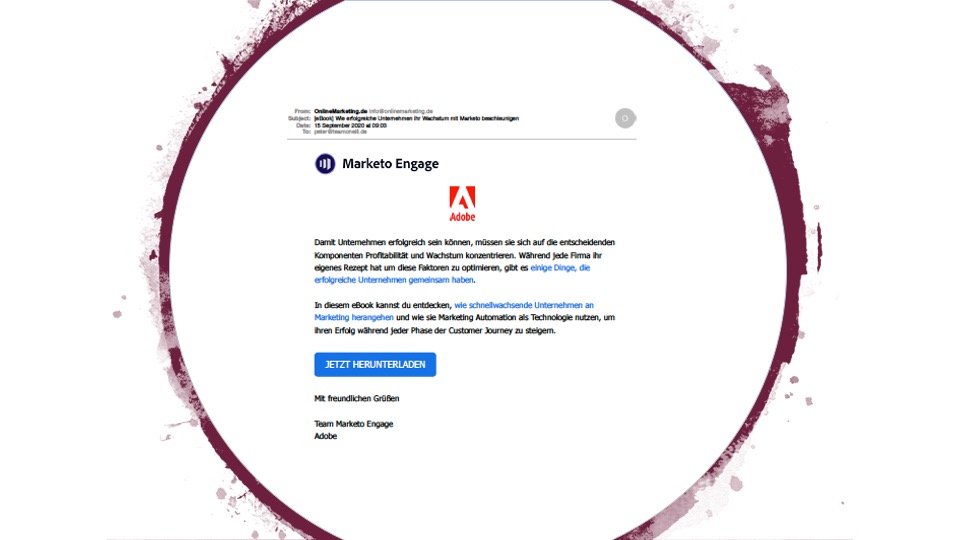 Now this could be a considered fulfilment piece. Team Marketo Engage, Adobe (whoever that is) may be thinking that German marketers are much less mature than their American counterparts and therefore showing examples that are 4-6 years back in time may be perfect for them here. But, as I have repeatedly written up in research reports and blogs over the last years, that conclusion is just not true: German B2B marketing is not underdeveloped, it is different.
But I think that this is just some lazy piece of marketing by someone who does not know the German market, had budget to spend on content translation and did a "quick and dirty" project. The irony is … with Adobe Experience Manager, you can render reader-specific information "automatically" on a website. Shame on you, Team Marketo Engage, Adobe, for not eating your own dog food !
Always keeping you informed! Peter