Propolis, a new digital community for B2B Marketing
I've been working with the B2B Marketing organization contributing research-based reports and presentations at their events. Recently, calling on my 10 years of experience in the research industry, I've also been able to contribute to their planning for a new community platform, which launched in January this year and already has over 1,000 members.
Propolis is an exclusive new digital community for B2B marketers, and one which we all believe will become the new home for the B2B marketing industry. By design, Propolis will have a diverse membership; not just executives but entire teams of people in leading global organisations based across the globe. The global expansion is real: I noticed that myself last March, when presenting at GetStacked 2020, all of a sudden I had listeners from around the world, not just from the UK.
The naming is quite elegant. Propolis is a resin that bees use to both build and protect their hives. That makes it a perfect metaphor for the buzzing, vibrant and productive community that we will be generating. Within Propolis, there are eight separate Hives, built around the core pillars of B2B marketing, where members can explore and expand their knowledge on their chosen areas of interest.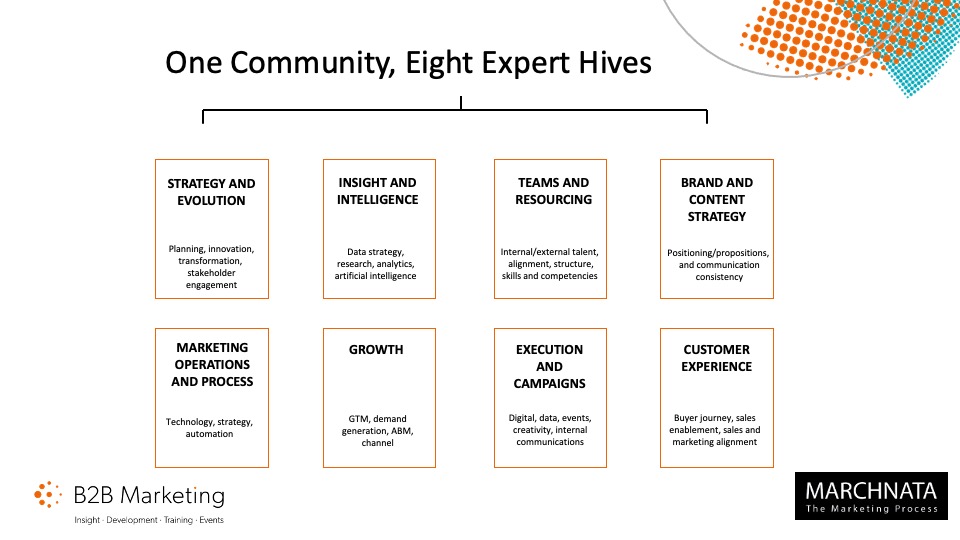 If that were not enough, there are also areas dedicated to individuals of different areas of seniority, as we know CMOs have different community needs to marketing directors or line managers.
I am the resident "Lead Analyst" for Propolis and get to write one research report for each of the hives during 2021, working with the designated Hive Expert, each of them a recognized B2B marketing expert. We usually run a survey and interview other practitioners to inform the report. The first report, Moving Forwards with Marketing Operations, is now available; the second survey, on customer experience is in the field; and the third survey, about campaigns and execution is being finalized.
I think that Propolis has the potential to be nothing less than a game changer for B2B marketing as an industry, as a profession, and most of all as a community. The way that business professionals want to consume and discuss industry and disciplinary trends is changing to become much more:
Digital. Meaning that there is interactivity, not just website documents
Democratized. Where all job levels can afford to benefit from the information
Discussion-based. Where peer inputs are valued just as much as the so-called experts.
As an industry analyst, I am proud to be able to offer my wisdom in this community but realize that I am learning from every interaction as well.
It is strange: about 7 years ago, I had an argument with Joel Harrison, Editor-in-Chief of B2B Marketing because he claimed that they and Forrester Research, where I worked then, were competitors. I did not believe that a journalism-based site was in that position, though I did agree that they probably captured budgets that could have been spent on my stuff.
NOW, we will see what happens. I look forward to our interactions in Propolis.  
Always keeping you informed ! Peter