Here is my next Vendor Selection Matrix – the top twenty vendors named by business users who have automated their Brand Content Management process.
Managing brand and content is now a major business pain point in marketing organizations that seek a consistent process from content creation, thru delivery, to attribution. The recent explosions in content marketing and digital channels have increased both the complexity and volume of content assets. Plus, the transition of the classical sales cycle to what is now recognized as a buyer-led research process means that marketers must obsess about the brand message carried in all the channels. Many of them also serve an ecosystem of subsidiaries, distributors, resellers or even franchisees.
Most companies use several software tools within this process as there are few vendors who cover the complete lifecycle for content and brand. But companies want to consolidate their software platforms – a recent study showed that business users typically switch applications over 1,100 times per day. We found that 76% of the 1,500 buyers we surveyed will invest in brand content management software in the next 1-3 years, over half of the 1,500 for the first time.
So, it is no surprise that the market for this software is active and growing. I found nearly 50 active software and SaaS vendors globally generating an estimated total revenue of around $2 billion but it is still quite fragmented across many vendors – the top 20 vendors selected by buyers in this survey generate less than 40% of that total. This list includes established software giants like Adobe and OpenText but there are several innovative solution providers, who talk more about marketing than technology, enjoying annual growth rates of 100% plus.  Vendors like Brandmaker (the global leader in our survey), Brandmuscle, Brandsystems and Bynder plus MarcomCentral.
As I did with the marketing lead management report, here are the highlights I noted for each of the top ten vendors on their scorecards. Remember, the ranking is based on their total scores: an aggregate of the scores assigned by their users plus my assessment.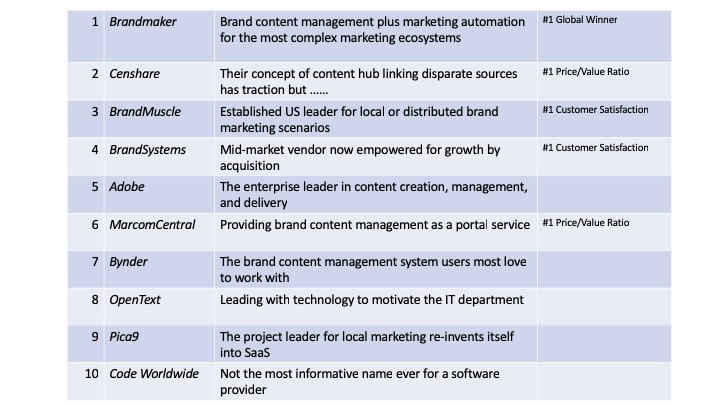 Always keeping you informed! Peter