VSM for Sales Engagement Management
In 2019, I still get people asking me "Didn't you write that Death of the B2B Salesman report?" Actually, I didn't, I was just one of the editors. The author of that Forrester Research report was my old colleague Andy Hoar, who was covering eCommerce. I just leveraged his research in a keynote speech to provoke my audience of 500+ sales enablement professionals at the conference I was moderating. That was in 2015 and, well, it certainly succeeded!  Back then, my colleagues and I had established the need for the discipline of sales enablement within B2B organizations and the conference was used to discuss the role, responsibilities and technologies. For my latest thinking on the role of B2B sellers, feel free to listen to this webinar, which was broadcast just last Fall.  
It's been great fun to revisit this topic recently and catch up with all the leading software vendors as well as many business practitioners. But I've moved the goalposts a little in my new research report because I don't think that sales people (definitely not their management) will want to have that many different systems running on their devices.
Marketers want a system to distribute content to sellers at the same time as Sales-Ops is focused on on-demand coaching plus supporting the day-to-day operational processes that sellers must endure. Ultimately, these solutions will be combined into one robust set of sophisticated tools, on the seller's device of choice, in order to engage productively with their knowledgeable prospects and buyers. I therefore see Sales Engagement Management as one of the fastest growing Martech markets and 48% of 1500 business executives we interviewed will be investing for the first time in this area of software automation near term.
Now, because the market is in its early-adopter phase and many of the users tended to buy from the first vendor that called, the survey may not accurately reflect the current offerings of all vendors. Some of the early leaders, with somewhat-satisfied customers, are no longer the innovators; while newer vendors, but with smaller reputations, are encroaching rapidly.
Indeed, the one thing I noticed in my briefings, and this is confirmed in the scores allocated by the 1500 practitioners we surveyed, is that it's difficult to separate vendors from each other at first glance. I had to dig very deeply at each briefing to find out exactly which customer types were being targeted, and with which value proposition. This is typical of a market in rapid growth, where the RFP process is only just starting to be applied, and where a high close-rate means that marketing concepts like thought leadership or value-based story telling have not yet taken hold.
Anyway, the report is now published and below is a table which lists the highlight statements for each of the vendor scorecards I wrote for the vendors with the 10 best aggregate scores.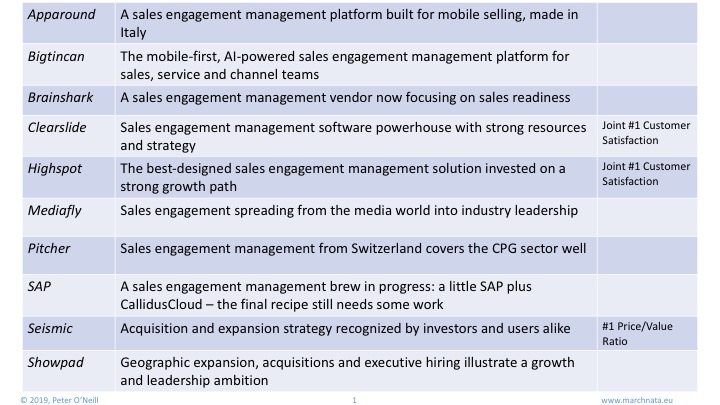 Always keeping you informed! Peter